Last Saturday iaitu 8 December 2007 my company organised futsal tournament yakni last event for our JHJ 10th Years Anniversary. Tournament ni diadakan di Menara Pan Global, Petaling Jaya.... Kami jemput client2 kami (Some of them jek) Client yang menghantar wakil haritu adalah Kumpulan Darul Ehsan, Kumpulan Perangsang Selangor, IT Services, IT Distribution, Takaful Ikhlas, Syarikat Prasarana Negara Berhad and Public Bank... And of course company aku pun bertanding... walaupun kami dapat tempat 2nd last .....huhu...
Aku ditugaskan di bahagian reception...aku xsepatutnya main.... Tiktibe je wakil dari Takaful Ikhlas datang and bagitau pemain perempuan diorg xdapat dihubungi.... Rules kitorang sepanjang game at least kena ada sorang player pompuan.....aku bgtau pengerusi majlis... last2 dia suh aku join Takaful Ikhlas... giler apa aku mana penah main futsal... tapi xpela... apa salah mencuba kan...belum apa2 lagi aku dah mintak maaf kat player Takaful Ikhlas kalau2 nanti aku punca diorang kalah.... But they all are OK... diorang bagi aku peluang... Thank you to Halim and team mate yang lain sebab bagi aku main futsal.... best gak main futsal ni... tapi memang aku penat giler.... tapi yang best skali bila aku dapat 2nd place... YOOOHOOO.... berbaloi betoi...walaupun the day after aku jalan macam robot...mana taknye..... dah lama xexercise.....

Posing sebelum mula tugas....
Piala untuk pemenang.... 1st place and runner up je dapat piala.... players yang lain dapat payung and mug daripada sponsor kitorg...PEPSI....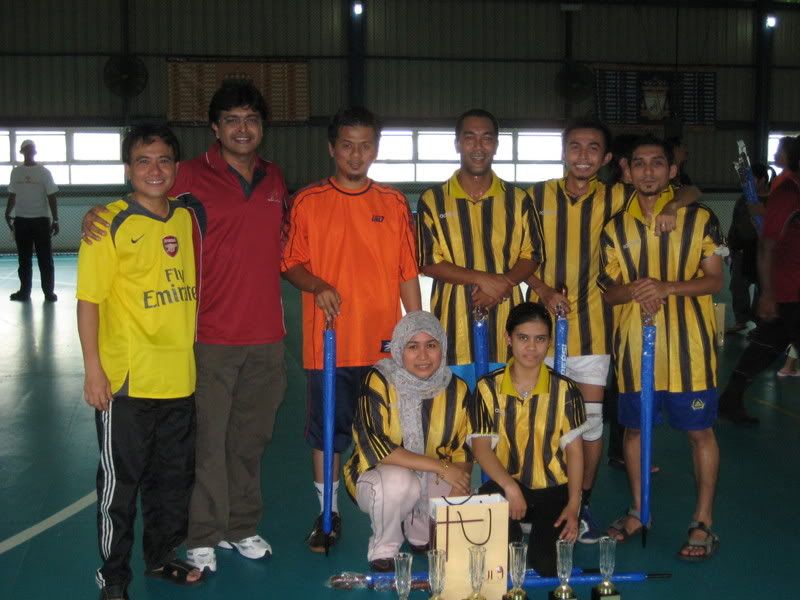 Tempat pertama....IT Services


2nd Place..... Takaful Ikhlas
My Boss, Halim, Shahril, Sulaiman, Azmil, Mahathir & Me