Bila en suami xde...leh la kami mkn mende2 yg dia xsuka...hehe... smlm i'm craving for choc cake with hot fudge so apalagi... godek2 kat dapur le... nak beli sendiri xleh nak pk nk ke mana....huhu... for dinner lak pasta laaa.... smlm wat carbonara... liciiiinnnnn... Hakimi suh wat lagi arini...adoii... arini menu lain la pulak.. insyaallah en hubby balik malam ni... kalo jadik esok kami nak jumpa Kak Limah sebelum dia balik kampung...muahaha...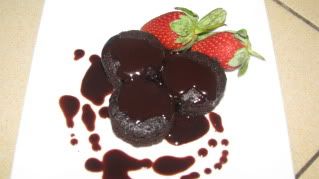 my version of chocolate cake and hot fudge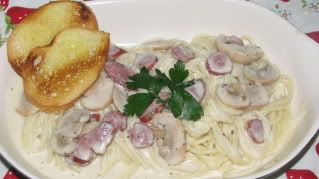 spaghetti carbonara with garlic bread...
Spaghetti Carbonara
Bahan-bahan:-
Spaghetti (untuk 3 hidangan) direbus
3 biji button mushroom - dihiris
bawang putih - 3 biji (diketuk)
sedikit hirisan ayam (ayam keras mcm batu so rin guna sosej je)
1/2 cawan susu segar
Olive oil
Parsley flakes (kalau ada.. x de pon takpe)
Black Pepper
Chilli flakes (aku takde.. kalau ada lagi sedap!!!)
Parmesan cheese (rin pakai cheddar je)
sedikit tepung
Cara-cara:-
Panaskan sedikit olive oil.. tumiskan bawang putih sehingga wangi.. kemudian campakkan hirisan sosej..kacau rata.. bila sosej dah masak masukkan mushroom.. kemudian.. masukkan sedikit tepung gandum.. kacau rata.. maka boleh lah letak fresh milk lebih kurang 1/2 cawan and cheese.. tabur sedikit black pepper.. dah siap angkat dan curahkan di atas spaghetti anda.. taburkan parsley dan chilli flakes.. siap!!!!
senang jer kan? heheheh.. tapi rasa dia mengancam okeh.. licin mak bedal.. so agak-agak kalo malas leh pakai sos prego je.. boleh lah try!!