En Hubby xde lagi lunch time smlm so wat Spaghetti Olio with Roasted Chicken lak... arini xde spaghetti dah sebab En Hubby dah balik... kul 4pagi tadi hubby hubby call and rin pegi amik dia kat hentian sebelah Sg Buloh.... then sambung tdo... arini Hakimi lambat ke sekolah sebab jalan jem... bukan jem sebab apa... jalan keluar ada satu... then dua2 belah kete penuh org parking kat luar... dah jadi satu lane... then ada lak cina pegi paring double kat simpang... buta2 kena pecah cermin tingkap dia sume2... kesian pun ada... padan muka pun ye.... sape suh halang lalu lintas... ada sorang uncle tu siap hentikan enjin and lepak kat luar baca paper... haha... ada gak yg hon... nak hon mende dah xleh nak lalu... sampai school dlm 8.20... then call hubby kata yang I n Hazimi pegi bfast dulu sbb malas nak tempuh jem... kul 9 lebih sikit camtu dah clear... ingat nak amik gambo Proton BLM yang kena pecah tu... xsempat daaa... udah xde... okla meh semak resepi Spaghetti Olio and Ayam Panggang ek...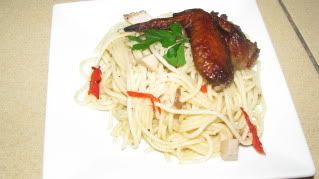 Spaghetti Olio
Bahan-bahan:-
Spaghetti (untuk 3 hidangan) direbus
3 biji button mushroom - dihiris
bawang putih - 3 biji (diketuk)
sedikit hirisan ayam
Olive oil
Parsley flakes (kalau ada.. x de pon takpe)
Black Pepper
Chilli flakes (Rin letak cili merah potong je)
Garam
Cara-cara:-
Panaskan sedikit olive oil.. tumiskan bawang putih sehingga wangi.. kemudian campakkan hirisan ayam..kacau rata.. bila ayam dah masak masukkan mushroom.. kemudian.. tabur sedikit garam dan black pepper.. dah siap spaghetti anda.. taburkan parsley dan chilli flakes.. siap!!!!
Ayam Panggang
Bahan-bahan:-
1/2 ekor ayam
1 biji bawang besar
2 biji bawang putih
1/2 inci halia
2 atau 3 sudu besar sos lada hitam
1 sudu besar madu
1 ketul kiub ayam
1 sudu besar gula pasir
1 sudu besar herba campuran
sedikit garam
Sedikit air untuk mengisar
Sedikit mentega
Cara-cara:-
Campur kesemua bahan make-up dengan sedikit air dan kisar.
Lumurkan keseluruhan bahan tadi pada ayam yang telah dibersihkan.
Perap selama 1 1/2 jam.
Sapu sedikit mentega keseluruhan ayam dan bakar/panggang. Bakar selama 1 1/2 jam atau sehingga ayam masak. Semasa membakar, selepas 1/2 jam pertama, sapukan ayam dengan minyak n campuran rempah yang menitis. Ini supaya ayam tidak terlalu kering.
haaa ni tangan Hakimi... dia suh gak letak kat blog... nak bagitau yang dia dpt chop "Very Good" dari Teacher sebab dapat jawab soalan.... keep up the good work ye sayang... Mama always loves you